---
Friday, March 25, 2011
Will organized religion die?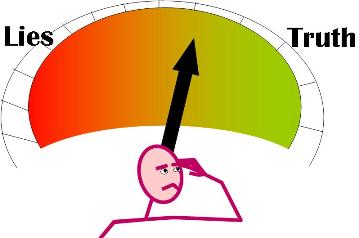 Study predicts organized religion will become extinct in several countries…

article to be found at
http://www.mlive.com/news/index.ssf/2011/03/study_predicts_organized_relig.html
Yesterday a number of articles were written as a result of research showing mathematically that organized religion was going to disappear in Ireland, Canada, Australia, New Zealand, the Netherlands, Austria, the Czech Republic, Finland and Switzerland.


Well, since I live in Canada it was no surprise that this was one of the countries, and quite honestly I am a person who believes organized religion should go!


Why?


Well, if religion is a set of religious laws propounded by men, then it should be relegated to the same place as legends.


If however it is a relationship between a person and God, then I think it's a pipe dream to think it will disappear!


I met Jesus in a special way many years ago and that one experience changed me forever. I didn't attend a church or even know a Christian at the time. In fact I was being charged with breaking and entering and was in a very bad way as an adolescent.


I cannot reject God any more than I could my own existence. It would simply be stupid!


That type of relationship is where God touches lives and we don't need laws, rules and regulations to establish it.


To say that that will disappear is crazy!


On the other hand our religious churches (not all but let's just say many) are so busy bolstering up their own view of what they call "doctrine" that they fail to see people around them in need. They fail to love everyone and setup regulations for how and when people should interact with God.


I was appalled when some people in my own church looked down on a guy talking of God from a video because he was overweight, dressed casually in jeans and sweaters and had long hair!


What garbage!



It is no wonder organized religion is dying if it is not focused on Jesus' love for us and those around us in practical non condemning way!


So, bring it on! Let's get rid of organized religion that is false and get the real relationships with God that is true.


Today I am looking for truth, aren't you?
Fri, March 25, 2011 | link
Thursday, March 24, 2011
Oops! That boat just don't float!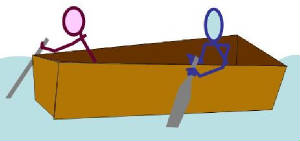 Ever been in cardboard boat, rowing across a lake when you notice a soggy patch appearing at the base of the boat?

It's about that time a realization hits that within a short time you will be swimming! The soggy patch becomes more extensive and then a little crack appears in the cardboard. Rowing madly, the shore seems to stay a distance away that is forever and no matter how much is done, there is no way the boat will make it.


That first drip of water is small, but within a very short time the rip widens and water starts to flood in!

Reflecting, we realise that if only we had applied that piece of duct tape to that specific patch and not ignored it we would have been safe!


Life has these situations where we screw up doesn't it?

Sometimes it's not deliberate, we simply don't do the right thing and life goes awry, right?


Sometimes we just think that we have too little time to do the right thing, or insufficient resources, but whatever our excuse, once we are rowing on that lake and the cardboard gets soggy, it really doesn't matter does it?


We are screwed!


Evil floods into our life in a similar way! Around us Satan prowls, establishing evil that waits to flood into our lives. 1 Peter 5:8
Be alert and of sober mind. Your enemy the devil prowls around like a roaring lion looking for someone to devour.


Sometimes Satan uses a promise of fun and excitement, and perhaps even a challenge to get us going out into a world full of evil. Our Christian principles are our only protection against the flood of evil that threatens to try and drown us.


To escape this all we need to do is to apply the coating of daily prayer, reading what God has to say, and spending time with Christian's with whom we can chat and share things. We need to do the right thing! sometimes we just say we don't have the time.

WE FAIL TO TAKE THE RIGHT MEASURES TO PROTECT OURSELVES!

Maybe we complain there is not enough bibles, Christian friends, or opportunities to connect with God.


Setting out into our day we seem to be fine for a while and then we see that soggy patch appearing! Evil tendrils then trap our minds and hearts!


Without help we are going down!

Our mind goes to words like those in Judges in the bible, Judges 10:14


"Go and cry out to the gods you have chosen. Let them save you when you are in trouble!"


These cynical words show us how stupid we have been as the evil of the world threatens to overwhelm us.


Fortunately, that is not all that God has to say on the matter. . . God also says. . .


Matthew 11:27-29 (NIV, ©2011)


"All things have been committed to me by my Father. No one knows the Son except the Father, and no one knows the Father except the Son and those to whom the Son chooses to reveal him.

"Come to me, all you who are weary and burdened, and I will give you rest. Take my yoke upon you and learn from me, for I am gentle and humble in heart, and you will find rest for your souls.


So we have a place to turn as we row our leaking cardboard boat! Notice however, that together with the promise of rest comes a gentle reminder

"take my yoke upon you and learn from me"

.


God will pull up alongside with the power boat and rescue us, he is in that business, but he is also in the business of putting us back on that same shoreline with similar materials and opportunity and allowing us to set out again, this time with knowledge and help. God wants us to understand we need to do what he asks if we are to be safe. We need to take the time and use the resources he makes available if we are to keep out the evil tide and successfully cross turbulent evil times.


We have what we need, but it is us that is to take up the yoke, God will not do it for us! We need to get down to the business of learning from God and applying what he says.


Then we will be safe!

That's my plan today, what is yours?
Thu, March 24, 2011 | link
Wednesday, March 23, 2011
Impatience! One of my greatest failings, so how can I succeed?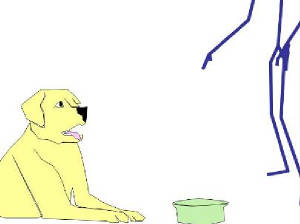 A person's wisdom yields patience; it is to one's glory to overlook an offense.
Proverbs 19:11


But for that very reason I was shown mercy so that in me, the worst of sinners, Christ Jesus might display his immense patience as an example for those who would believe in him and receive eternal life. -
1 Timothy 1:16


Patience is not passive; on the contrary, it is active; it is concentrated strength ~
Edward G. Bulwer-Lytton


I tend to be impatient!


My early morning computer start-up leaves me fuming at how Microsoft wastes my time! Today riding in spring snow, the motorists going 20 to 30km/hr in a 60km/hr zone got me frustrated! In general I find that I like to have efficiency and speed in everything I do.


So patience is not my best attribute, I fail at this frequently! So I guess most other people are better than me in this area, and so for me this is an area that I often hear the voice of God in my life more actively.


This morning as that little Chinese lady sat waiting in her car waiting for that gap in the traffic through which the Titanic itself could have passed uncompromised, I found myself talking to God about helping me to cool my frustrations and let his peace into my life.


Then as I waited in line to get into the parking garage while some people sorted through their change for an eternity in an attempt to get the exact right amount so that the attendant would not have to exchange a bank note, I found myself again talking to God (and myself) asking to help him to help me keep my cool!


My impatience has a way of getting me talking to the king of eternity about my failings (often) and that is a blessing!


The trick to being successful in this process is firstly knowing and acknowledging that I am an impatient person!


With this in hand, I can take each occurrence of impatience where I find myself in a situation to God, and then I chat to Him, transforming my mood towards impatience and pulling me towards joy and peace.


Often God reminds me of a time when my impatience got me into trouble as I chat to him about a current situation. This then gives me motivation to wait for Titanic to sail through the traffic!


More than that, I realize that every occurrence is a small victory over this evil in my life!


Wisdom in the form of Jesus' love, enables me to overcome impatience. If I consider how patient Jesus is with my failings, this re-orients me towards a day of giving others peace and time to deal with their inadequacies. We all have them don't we?


So my prayer today is that I would be a person of patience slow to anger and quick to forgive.

What's your prayer?
Wed, March 23, 2011 | link
Tuesday, March 22, 2011
Purim, Esther and the promise of God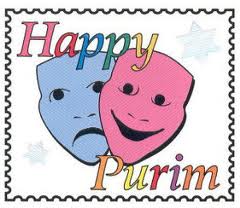 Sometimes we know in this world,

sometimes we know in the next world.


Take advantage of the Jewish holiday, Purim!

Rise early, say Tehillim,

Pray for one thing.

Focus on one thing for 40 minutes

when you talk to God.

Sometime things happen around us and we are blissfully unaware that they occurred or are occurring.


Purim is a Jewish festival that celebrates a woman who liberated her people from a certain genocide.

Not only that, she was a beauty pageant queen and a sex object in a male world. She was an orphan to start with.


There is a whole book in the bible about her life, and not one mention of God, although there is a continual theme behind the story of how God is working through her and her circumstances.


Why mention this today?


Well this month is the feast of purim! It's a party feast with dancing, dress up, noise making, songs, and much more!


At the end of this we get to know one main thing, that God is active in peoples lives even when he is not expressly mentioned and that none of us can live outside his influence.


This is what I want to remember today as I go and re-read the story of Ester.

That I am under God's influence and all my decisions are really made to help his purpose and the lives of those around me.

No matter who I am, what role I have, it's important to God's purpose and I can choose to work within God's purpose or suffer the consequences.


I choose God's will, will you?
Tue, March 22, 2011 | link
Monday, March 21, 2011
Unbelieving hearts crush the unbelievers donít they?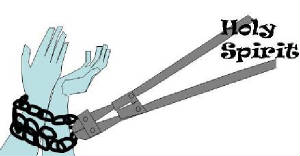 We have always held to the hope, the belief, the conviction that there is a better life, a better world, beyond the horizon.
-Franklin D. Roosevelt
He does not believe that does not live according to his belief .


…Just as no one can be forced into belief, so no one can be forced into unbelief.
- Sigmund Freud

What is belief other than trusting in some opinion or conviction?
Sometimes it is a conviction that others consider true, but which we don't, or vice versa.

My beliefs may not be yours, since we all differ in our decisions and needs, right?

What do Christian's believe that is perhaps different to what others do?

Core is the truth that Jesus as the son of God came to earth to make a way so that we can move into an eternity of fulfillment and purpose with God!

Really, it is a very simple thing to believe and yet it is so core to life that without it our lives can be lived in a spiritual vacuum that we as humans try to fill with all sorts of purposeful things.

All this is done to hide the fact the vacuum is so large.

We pack in experiences into our lives that take up time and stimulate us! We do it in a vain attempt to fill the vacuum with selfish contentment!

Drugs, alchohol, sex, money, status are some examples of our "fill-up" techniques.

Filling our lives ourselves is elusive because God designed us with what the psychologists call "habituation". This in simple terms means as soon as we get used to something, it no longer stimulates us as well!

This makes sure selfish endeavours never provide ultimate fulfillment!

Another way we attempt to self fill our purpose is by doing things for others or the environment.

While this is good and is much closer to God's heart, and something God wants us to do, we often find that by the focus on doing for others we seem to wear thin.

Our lives become stretched, and we tire of life and the damage of life we see around us. Devastation of a Tsumani is horrendous and the need can seem infinite and ourselves so small! This is a direction that often leads to bitterness and disillusionment!


All of these attempts to fill life lack the power of Holy Spirit in our life and without him, our lives become stretched, distorted and tiresome.

The bible says…Hebrews 3:12

See to it, brothers and sisters, that none of you has a sinful, unbelieving heart that turns away from the living God. But encourage one another daily, as long as it is called "Today," so that none of you may be hardened by sin's deceitfulness.

Who is responsible to have a believing heart?

We are!

Our strength is to focus on the living God!

Holy Spirit, who resides in us, is to be released to perform through us the works of God on a minute by minute basis! Surely we need to let God work through us so that our lives overflow continually with Godly power!

We live in "today", the present time! This is where we are to apply our energy and focus. Only by continually exposing ourselves truthfully to the control of Holy Spirit will we see the miracles start to happen! These are small at first, but get bigger as time passes and as our ability to humbly allow God to work in us increases over time and with our decisions.

I know this sound crazy, but doesn't the bible say in 1 Corinthians 1:22-24

Jews demand signs and Greeks look for wisdom, but we preach Christ crucified: a stumbling block to Jews and foolishness to Gentiles, but to those whom God has called, both Jews and Greeks, Christ the power of God and the wisdom of God.

I guess that I don't mind appearing foolish in my own eyes, if I can know and experience the vitality of life, the joy of continually being in God's purpose, and the challenges that make life worth living!

So today, I want life purpose that comes from submitting to Holy Spirit and trying to allow my mind thoughts and will to align with God's cosmic purpose, the one that Jesus taught!

Have a great day!
Mon, March 21, 2011 | link
---
If you want to see a short blog describing a perspective on what I believe click here
Rift in Evil

By Ken X Briggs

Published:

September, 2010

Format:

Perfect Bound Softcover

(B/W)

Pages:

208

ISBN: 9781450250894

Available from Barnes and Noble, Amazon, iUniverse.
Credit cards are acceptable on sites having Ken's books:



Ken's book covers are displayed below. . .

This suspense thriller centers on Kiara, a beautiful young woman pursued by a murderous group of people, who relentlessly and ruthlessly hunt her and her sisters. Kiara has no idea why she is being targeted! When Kiara and her family turn to the law for help, this fails. Her pursuers' powers reach deeply into the political and law enforcement world. Family support for her dwindles when they too have to flee her pursuers. Can Kiara escape the clutches of both the law and dishonest big business? With the media broadcasting that Kiara and friends are dangerous and subversive, can Kiara clear her name and bring her pursuers to justice?

To purchase Kiara's Pursuer ebook @ $1.99

kindle version click here,

To contact the author contact Author@KenXBriggs.com

The town of Zinaville is dropped into a spiral of evil causing a young man and a beautiful but abused woman to launch into an investigation that unveils an evil conspiracy.

A horrific mining accident results in Joshua Robyn's father being killed. Joshua struggles both with himself and his townsfolk as he tries to make sense of an incomprehensible situation. Is it an accident or a murder? Why is there a seeming link to evil? Why is his work environment suddenly threatening? What is the conspiracy about and what are they trying to do? As action moves dramatically from exotic African grasslands to the heart of North America's cities, the plot unfolds and the pace quickens. Will there be time? Why is a beautiful abused young woman in the center of this plot?

Evil tendrils tighten on their lives and the interplay between the visible and invisible world shows opposing forces at work.

Will there be a rift in evil?

Will they be able to stop the evil in time?

Published:

September, 2010

Format:

Perfect Bound Softcover

(B/W)

Pages:

208

ISBN: 9781450250894

Available from Barnes and Noble, Amazon, iUniverse. Chapters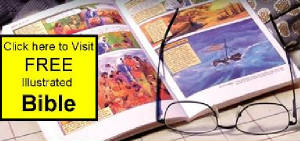 May you be blessed today!