---
Friday, August 1, 2014
Steps of growth – Add love to mutual affection
Steps of growth – Add love to mutual affection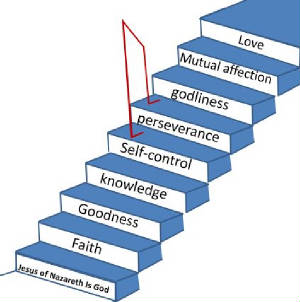 "Whatever a person may be like, we must still love them because we love God." ~ John Calvin


Easy to say, not so easy to do right?


Think of that person who puts us down, who abuses us with words actions and sometimes with lies behind our back.


Surely not?
Surely yes! I don't see any escape clause in the bible that I know and read.


According to that sacred writing
love is to overcome everything!


Everything!


It makes me feel so inadequate when I hear this. Perhaps you also feel inadequate? We need to know more about God if we feel this way...He makes things possible!


How can I possibly live up to doing this part of God's request?


Peter in 2 Peter 1 says


"…make every effort to add to your faith goodness; and to goodness, knowledge; and to knowledge, self-control; and to self-control, perseverance; and to perseverance, godliness; and to godliness, mutual affection; and to mutual affection, love. For if you possess these qualities in increasing measure, they will keep you from being ineffective and unproductive in your knowledge of our Lord Jesus Christ."


Notice that love comes at the end of the list. Jesus' love starts the list as faith in God which grows from God's love for us. This love generates that faith, and is our loving response to God.


We are submerged and surrounded by the love of God but living in a world that has evil, pain and hate.


How do we respond?


If we want to grow we need to take steps to success. We need to lift ourselves upwards and move onwards into God's plans for our life.


We need to add into our life the goodness, work at building our knowledge through our studies (and the most important of these studies is investigating and learning more about God, Jesus and Holy Spirit), next we need to take what we learn and stop our selfish desires from ruling us, allowing God's power to flow through us into the lives of others.

That's not easy!

That's why that fisherman who followed Jesus and became the leader of the world Church says we need to persevere. We don't have to persevere when things go our way and are easy. Rather persevere when we need to work against our natural desires.

Taking control over ourselves we focus on God's desires for our life and this moves us onwards into being more like God.


Then, as we mature, and God is able to enable us to do His will by Holy Spirit who now activates and motivates our daily thoughts, decisions and actions, we find we have respect for others.


This respect for others starts to overcome differences between them and ourselves.

Respect for others overcomes the fact they do things we do not agree with.

Respect for others becomes a precious respect for them because God made them, and that they are like us able to respond in love to the great creator.

That God was willing to take abuse, rejection and despicable treatment until it killed Him, because he loved them so much.


That leads me into wanting to do the same!


The love for Jesus becomes the love of Jesus flowing through me
, using my hands in loving ways, being willing to sacrifice myself for others, being willing to love the unloved. (Perhaps you have heard of the Christian who in loving and helping Ebola patients, himself got the incurable disease. That's Christian love! That's a way God communicates His love into our world through Christians! The world can heap abuse on us, but we do what God wants, not what is our selfish desire.)


I believe another great man, Paul, a person who Jesus turned from hate in to love when he wrote this in 1 Corinthians 13 …


If I speak in the tongues[

a

] of men or of angels, but do not have love, I am only a resounding gong or a clanging cymbal. 2 If I have the gift of prophecy and can fathom all mysteries and all knowledge, and if I have a faith that can move mountains, but do not have love, I am nothing. 3 If I give all I possess to the poor and give over my body to hardship that I may boast,[

b

] but do not have love, I gain nothing.


4
Love is patient, love is kind. It does not envy, it does not boast, it is not proud. 5 It does not dishonor others, it is not self-seeking, it is not easily angered, it keeps no record of wrongs. 6 Love does not delight in evil but rejoices with the truth. 7 It always protects, always trusts, always hopes, always perseveres
.


8
Love never fails. But where there are prophecies, they will cease; where there are tongues, they will be stilled; where there is knowledge, it will pass away. 9 For we know in part and we prophesy in part, 10 but when completeness comes, what is in part disappears. 11 When I was a child, I talked like a child, I thought like a child, I reasoned like a child. When I became a man, I put the ways of childhood behind me. 12 For now we see only a reflection as in a mirror; then we shall see face to face. Now I know in part; then I shall know fully, even as I am fully known.


13
And now these three remain: faith, hope and love. But the greatest of these is love.


Will you move to this pinnacle of love?
The place where the pure white love of God reflects itself into our lives to enable others to have the water of God's truth, to hear God's words and so be able themselves to gain the faith and then climb up the steps of success. and growth?


It's the least we can do for our loving Lord Jesus who was executed in our place so that we could go free.


Isn't it?
Fri, August 1, 2014 | link
---
If you want to see a short blog describing a perspective on what I believe click here
Rift in Evil

By Ken X Briggs

Published:

September, 2010

Format:

Perfect Bound Softcover

(B/W)

Pages:

208

ISBN: 9781450250894

Available from Barnes and Noble, Amazon, iUniverse.
Credit cards are acceptable on sites having Ken's books:



Ken's book covers are displayed below. . .

This suspense thriller centers on Kiara, a beautiful young woman pursued by a murderous group of people, who relentlessly and ruthlessly hunt her and her sisters. Kiara has no idea why she is being targeted! When Kiara and her family turn to the law for help, this fails. Her pursuers' powers reach deeply into the political and law enforcement world. Family support for her dwindles when they too have to flee her pursuers. Can Kiara escape the clutches of both the law and dishonest big business? With the media broadcasting that Kiara and friends are dangerous and subversive, can Kiara clear her name and bring her pursuers to justice?

To purchase Kiara's Pursuer ebook @ $1.99

kindle version click here,

To contact the author contact Author@KenXBriggs.com

The town of Zinaville is dropped into a spiral of evil causing a young man and a beautiful but abused woman to launch into an investigation that unveils an evil conspiracy.

A horrific mining accident results in Joshua Robyn's father being killed. Joshua struggles both with himself and his townsfolk as he tries to make sense of an incomprehensible situation. Is it an accident or a murder? Why is there a seeming link to evil? Why is his work environment suddenly threatening? What is the conspiracy about and what are they trying to do? As action moves dramatically from exotic African grasslands to the heart of North America's cities, the plot unfolds and the pace quickens. Will there be time? Why is a beautiful abused young woman in the center of this plot?

Evil tendrils tighten on their lives and the interplay between the visible and invisible world shows opposing forces at work.

Will there be a rift in evil?

Will they be able to stop the evil in time?

Published:

September, 2010

Format:

Perfect Bound Softcover

(B/W)

Pages:

208

ISBN: 9781450250894

Available from Barnes and Noble, Amazon, iUniverse. Chapters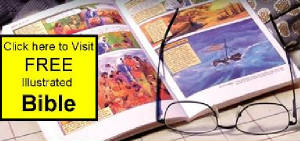 May you be blessed today!