---
Thursday, July 24, 2014
Steps of growth – Add mutual affection to godliness
Steps of growth – Add mutual affection to godliness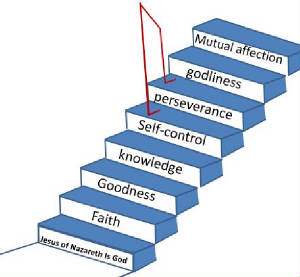 "One should never direct people towards happiness, because happiness too is an idol of the market-place. One should direct them towards mutual affection. A beast gnawing at its prey can be happy too, but only human beings can feel affection for each other, and this is the highest achievement they can aspire to." ~ Alexander Solzhenitsyn


Daily many of us chase happiness.
Daily many of us fail to find it!
Happiness is an elusive aspect best found when not looking for it
.


In our investigation of the steps of success we have reached the one called mutual affection. It's a place where respect for others is highly valued. It's a place that shows compassion for others and ability to see others in a positive light. It's a place where despite faults that we all have, we make space to give other not only the right to live, but we appreciate them despite their failings.


It's space where we become more godlike. This step is built on godliness and yet it also supports godliness. It takes perseverance in many circumstances to achieve and definitely requires our self-control. Knowledge of others, their circumstances, what influences their life and what can help, all helps us have the appreciation of others. The goodness we ourselves exhibit enables the others to have the "mutual" side of that affection.


This is the place where we as Christians can operate in love, freely enabling God to work in both ours and others lives.


Whether a person is the same as us or different, believes the same or different, it is still possible to have mutual affection.


This gives us the daily joy that makes life a really good place.


It's the place I want to be today! Hopefully it's the place you do too?


Have a wonderfully blessed day in which you have affection for those around you!
Thu, July 24, 2014 | link
Wednesday, July 23, 2014
Steps of growth – Add godliness to perseverance
Steps of growth – Add godliness to perseverance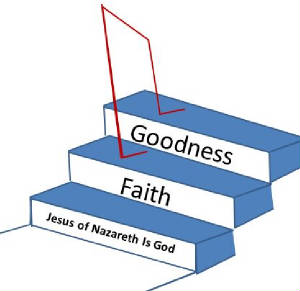 "Every day that we're not practicing godliness we're being conformed to the world of ungodliness around us."
~ Jerry Bridges, The Fruitful Life: The Overflow of God's Love Through You


What does it mean to practice godliness?


In these times most people don't even believe in gods, never mind understand what it means to be one.
It was not always that way. Most of us know a bit about the Egyptians of long ago and know their pharaoh was considered a god. He was just a guy but to his people he was a god and he played at being one until injury or death caught up with him. Then to keep people believing it he had huge tombs built for him.


(I find it a little amusing that a man who makes himself up to be a god builds such edifices for commemorating their death...it's a bit self-defeating isn't it?)


Also, we are warned in the bible against idol worship or self-worship, so how does that fit in with practicing godliness?


Yet 2 Peter 1 (NIV) clearly says...


For this very reason, make every effort to add to your faith goodness; and to goodness, knowledge; and to knowledge, self-control; and to self-control, perseverance; and to perseverance, godliness


We do know as Christians we have Holy Spirit living in us an guiding our actions.


We also know before we get to this Godliness we have to have come through the steps of success to this point such as faith (we know Jesus is God), goodness(life is now focused on doing the good God wants), knowledge (we have focused on truth and gaining knowledge about God and our life circumstances and how to align these), self control(teaching ourselves about submitting to Gods Holy Spirit even when times are tough), and perseverance(we know how to keep going when the times are tough).


Now God wants us to practice godliness
. This is not us making ourselves out to be a god like those ancient pharaohs did. It's about us allowing god's guidelines to flow through us so well that we start to allow people to see god in us, rather than only see us.


Godliness is a revealing of God through us by our lives actions and attitudes.
It is the respect and reverence of God that enables Holy Spirit to turn us into true representations of God on this earth as walk it daily.
It is the comfort of doing what pleases God because we love Him just a little of the way he loves us!


It transforms our attitude to others and to God Himself. It is not jest wearing God proclaiming jewelry and dressing modestly and acting that way, but it is the internal orientation of lives to the flow of God's power through us, showing the overflow of His love into this world.


We find God on God's terms not ours. We look for forgiveness for failures and clean our lives inwardly and outwardly to be clear vessels of God's love.


That's practicing godliness. It takes all the other steps of success to get there and is amazingly good when achieved.


We can do this! How about we practice it today?
Wed, July 23, 2014 | link
Tuesday, July 22, 2014
Steps of growth – Add in ability to keep going to Self-control
Steps of growth – Add in ability to keep going to Self-control


"It does not matter how slowly you go as long as you do not stop."
~Confucius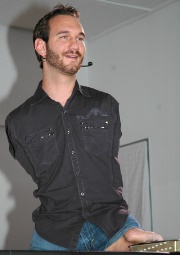 Have you ever hear of Nick Vujicic?
A guy without arms or legs!



Born that way.



Nick Vujcic
What an incredible painful way to have to face life many would say wouldn't they?




Would he?



This

Australian is a Christian evangelist and motivational speaker who tells people worldwide how to find hope and meaning in life.



I am sure some mornings he wakes up and the day is hard. He has difficulty even standing up as he has one small stump at the base of his body and it has to be difficult to balance.



He has faith in God. He added knowledge of God and even of the world. He got a double bachelor degree in accounting and financial planning. To this he had to add in the ability to control himself.

To the self-control he had to add perseverance. He had to keep going even when the times were tough!



These are steps of growth as a Christian. We cannot let our emotions explode and flow in any way they want to. They need to be directed by the power of Holy Spirit. When this happens we become more stable, more peaceful, joy starts to bubble up through life's turmoil's and a sweetness engages our interactions with others. Then, we need to continually work at it. Success is not only in overcoming but in not giving up on trying to overcome.



If we do this life around us becomes better and people want to be with us.



This worked for Nick! It works for millions of Christians!



It can work for us, if we work on achieving it!
Tue, July 22, 2014 | link
---
If you want to see a short blog describing a perspective on what I believe click here
Rift in Evil

By Ken X Briggs

Published:

September, 2010

Format:

Perfect Bound Softcover

(B/W)

Pages:

208

ISBN: 9781450250894

Available from Barnes and Noble, Amazon, iUniverse.
Credit cards are acceptable on sites having Ken's books:



Ken's book covers are displayed below. . .

This suspense thriller centers on Kiara, a beautiful young woman pursued by a murderous group of people, who relentlessly and ruthlessly hunt her and her sisters. Kiara has no idea why she is being targeted! When Kiara and her family turn to the law for help, this fails. Her pursuers' powers reach deeply into the political and law enforcement world. Family support for her dwindles when they too have to flee her pursuers. Can Kiara escape the clutches of both the law and dishonest big business? With the media broadcasting that Kiara and friends are dangerous and subversive, can Kiara clear her name and bring her pursuers to justice?

To purchase Kiara's Pursuer ebook @ $1.99

kindle version click here,

To contact the author contact Author@KenXBriggs.com

The town of Zinaville is dropped into a spiral of evil causing a young man and a beautiful but abused woman to launch into an investigation that unveils an evil conspiracy.

A horrific mining accident results in Joshua Robyn's father being killed. Joshua struggles both with himself and his townsfolk as he tries to make sense of an incomprehensible situation. Is it an accident or a murder? Why is there a seeming link to evil? Why is his work environment suddenly threatening? What is the conspiracy about and what are they trying to do? As action moves dramatically from exotic African grasslands to the heart of North America's cities, the plot unfolds and the pace quickens. Will there be time? Why is a beautiful abused young woman in the center of this plot?

Evil tendrils tighten on their lives and the interplay between the visible and invisible world shows opposing forces at work.

Will there be a rift in evil?

Will they be able to stop the evil in time?

Published:

September, 2010

Format:

Perfect Bound Softcover

(B/W)

Pages:

208

ISBN: 9781450250894

Available from Barnes and Noble, Amazon, iUniverse. Chapters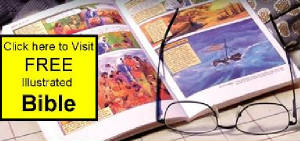 May you be blessed today!