Friday, September 14, 2018
Contemplation on Canada's True far north
I have been travelling in the far north of Canada. This is in a region past where trees grow to normal heights and in a region called the Tigre where dwarf old spruce trees cover the horizons. It is a privaledge to see God's creation in the small details, like the yellow green lichen covering the ground that feeds herds of migrating caribou in the winter.
These deer migrate over 6000km each year and could only survive based on this food they can get daily in winter.
It made me consider how humans migrate through life and true spiritual life comes from the dependence on Holy Spirits intervention daily. Without Him we starve and die spiritually. Perhaps that is the reason so many miss seeing God is real. The world is starving. Like deer who fail to look below the snow for sustenance and hold their head up high until they die, so do many proud people address the spiritual side of life with a prideful and haughty outlook.
Let's pray that changes!
Fri, September 14, 2018 | link
Friday, February 19, 2016
Reaching the nations
"Sometimes, reaching out and taking someone's hand is the beginning of a journey.
At other times, it is allowing another to take yours."~Vera Nazarian, The Perpetual Calendar of Inspiration
Reaching others for Christ is another area that is changing rapidly.
"Therefore go and make disciples of all nations, ...baptizing, …teaching."


Have you noticed the fact that
there is a rather
different understanding
between
discipling and converting.

Discipling is an ongoing state
without a completion goal, the
converting has a limited perspective of getting people to make some decision
and often lacks the focus of being alongside and mentoring. The modern youth understand these specific nuanced differences in meaning and often find that their elders seem to have failed to internalize or act upon this difference.
The modern church places too much emphasis on salvation
without doing what Jesus asked us and discipling, baptizing, and teaching.
How was discipling done by Jesus
?
Let's consider the starting point for those super Christians of the past. Those people we now almost deify (despite that being idolatry) and consider the fathers of the church. Consider those 1
st
century men, Simon (Peter), Andrew, James and John, as Jesus called them to be disciples. He strolled along the beaches of the Galilean sea to find them. When he did,
did Jesus insist they understand he was the only way to God and that they understand the message of salvation, or did he ask a bunch of guys to come along with him and learn about how to live a type of life of extreme meaning?
From what I can read the most he implied was a rather abstract promise that they could improve themselves and influence others in a way that (should they have understood the implications) would someday make a difference for the Jewish nation of the time.
I think if we consider this,
we will find it was a vague promise to help them be part of something bigger than themselves,
and a good thing it was! It took those guys years to even start to understand what Christianity was about, and they
lived
with Christ.
I suggest that if we think we have abilities to communicate the depth of Christian living in one or two hours, we are being rather silly aren't we?
I think many young people understand that as well. It's almost being dishonest. Like baiting a hook to catch a fish. It smacks of meeting the needs of the person fishing, rather than the one being fished.
While it may rarely achieve the purpose, I think many of the fish escape and refuse to ever come near our churches again.
I don't blame them!


Discipling
on the other hand
is a process towards deeper learning,
not just a few minutes or hours of consideration and then leaving people to carry on with a hope that they will learn something of value thereafter. Discipling is long term caring, compassion, and mentoring.
Jesus also did not force the current theological tenants of life on his new followers but
instead challenged them continually to find truth,
to do it with sincerity of mind, and to apply their lives to the task. He showed rather than told. He permitted failure to enable education.
The commission is to disciple, not only convert.


Having someone reach a point of decision about Jesus and who he is, is part of the process, it is not the directed activity at the start, nor the end of the discipling.
It is the mentoring of people about Jesus and leading them onwards towards the point where they can dedicate their lives to searching for His truths and follow His ways. The evidence of this being successful is that baptism is finally requested by the atheistic apostate when they start to immerse themselves in the truth and value of following a living God.
The modern youth understands and respects the concept of mentorship towards an ultimate goal.


Consider the time they devote to training themselves on games where they want to be the superhero. They know that it takes time, effort, and dedication to achieving excellence. They have no problem with that concept. They would be willing to follow and serve if they know there was unadulterated truth and value in the end goal. That's the vision we need to provide.
This is where the current church is again failing. Firstly,
the church as mentors they often lack understanding of the true world.
They lack grounding with truth.
They lack coordinated vision.
The church shows
stupid dichotomies arising in messages
about healing, marriage and sexual orientations that show no clarity but again rather a confusion of ideas and half baked compromise.
If truth is truth, then truth should stand out as a lighthouse
and be willing to weather a storm of discontent and abuse, remaining solid to show that the path is safe. It takes time and discipleship in more than just biblical information to show a person the truth in life. Jesus had to live with people to show them. How do we think we can do less?
To disciple correctly one must point to truth.

The churches waver on truth like reeds in a gusting wind
, every now and then getting thoroughly dunked by the passing gusts of wavering world views into worldly waters. This is not mentoring, but vacillating.
For example the churches are allowing governments to dictate their regulations, monetary policies, and social norms instead of standing free and true. To be true is to stand on truths that are unpleasant but basic.
One aspect of this is the redefinitions of marriage by governments that is an impending pressure on the church.
Young people will think fairness towards alternative sexual lifestyles is the correct course, but they also know the church does not agree with this. They are watching us bend our rules to fit our governmental dictates, and despise us for it. The linking of legal and church marriages is allowing the government to dictate what it thinks is morally valid instead of what needs to be religious truth. Pastors, preachers and leaders of the church perhaps need to break ties with the governmental institutions where necessary, and stay on course to teaching truths, no matter how unpleasant the world perspectives of it are.
Will the youth respect this?

Only if they also see us completely accepting and helping those who are embroiled in these lifestyles with an unbiased love.


Only if
we totally accept those sinners without telling them their sins are worse than others
.
The church has a much worse sin they need to eradicate, that of pride.
Until we repent and seek truth and stand for it, those in the world will never respect us. The churches definition of marriage need not align with the governments. There must be a direction on spiritual leadership, directed towards helping others with their problems and having clear spiritual affirmations in certain areas such as marriage. Everyone should be accepted and accommodated in the church, but only the spiritually mature should guide its direction (independent of their age).
Yes, the world's youth will not agree on the churches stand on marriage, but it will be a differentiator that would stand as a mark of true Christianity and we need to point to truth independent of popular viewpoints. Deep inside people know the church is correct and I think they are appalled at the vacillation that is occurring. Their view is "
disagree but be solid in your disagreement, don't be a wimp
" and our churches are being wimps.
No matter how critical the young person is of the values espoused, they are never going to be willing to follow wavering confusion
. They need clear guidance and know this.
When Jesus said to make disciples he was not wanting us to be taking the easy way out. It was a 100% commitment to those who were following to take them through the hell of life into the rewards of eternity.
Does our church feel the same way towards the youth of today?
How do we reach into their world?
Christianity is the one religion that never asks the follower to move out of the mainstream of life
. It wants the person right in the middle of life's events. The terminology is to be "
in but not of the world
".
The church is to face oppression and praise, and treat both of those imposters without fear or pride, but with the truths of Christ.


How do we reach the nations today?
Fri, February 19, 2016 | link
Wednesday, February 17, 2016
The Education Failure!
To educate a man in mind and not in morals is to educate a menace to society.~
Theodore Roosevelt


Why do we educate our children? Isn't it to give them the skills and abilities to live their future lives with success? I would assume this to be a true premise that most people would agree with. If it is, then we need to have a view of the future and how to be successful in it in order to educate effectively. Without this we are not leading the younger generations into the right paths.


What is the future?
The future isn't something many of us can predict with great certainty. One thing we can say about it is that it will be nothing like the past.


Let's review a little of what the past was like.


In the past, we educated our youth so that they memorized quantities of information and techniques for later use. We trained people in similar ways using classroom techniques, in order to get them to work in teams that listened to the eloquent instruction of leaders, who it was assumed knew more about the work and subjects at hand than their sub-ordinates.


We need to realize that young people had to respect those older than themselves for one basic reason. These older people were in possession of the truths, wisdom and knowledge that would help those that were younger move more accurately into the future.


If we go back even fifty years, the careers at the time didn't change significantly over a person's lifetime. Typically farming, teaching, medicine, law, engineering etc. had strong histories and with them came strong protection of the specific field of knowledge and skills. Apprenticeships in trades were often used to keep the young submissive to their elders, while they were fed small tidbits of the required skills as the younger apprentice complied to traditional rules and regulations. The extent of compliance was proportional to the reward the apprentice received, or at least that was the objective. So compliance was an unspoken assumption of that system.


The learning was also tuned to make sure that it would turn out people for the workforce in a predictable and known manner. Forecasts of what the next twenty years would be requiring were common. It was expected the next twenty would not be significantly different in needs to the last twenty, perhaps the quantities would be greater but the skills and knowledge required to meet them was assumed to be known. Countries established systems that built work forces that were focused on industrial tasks that were considered critical for the success of the nations.


This progression of learning was to a large extent made possible by two key aspects. Firstly the progressing of learning and its direction was due to the inability of the young to access information held within the domain of their elders, without their consent. Secondly, the progressing of learning and its direction was possible due to relatively good predictability of the future needs. If the strain of post war years and economic challenges were added to this, learning was firmly tracking within a well formed rut that had directed it for many years.


Then things changed!
Three key aspects changed learning. The first was accessibility of information and speed with which it could be processed. The second was that the average young person no longer had to listen to their elders and could independently decide on paths and direction of learning, that were outside of the skill levels of their elders. The third is that the future became incredibly complex, fast moving, and difficult to predict.


In this flip flop world, it is often the elders who are asking the younger generation to assist with technology and knowledge of advancements. An older person's advice is checked within minutes by the youth with access to technology like smartphones, tablets, and computers. Communication is fast and ubiquitous. Advice can be asked within seconds of needs arising, and distance and time are no longer limiting factors.


Now to survive, one no longer relies on retention of knowledge, but instead on the ability to find out what is required when it is required. We have moved into a world that approves of knowledge received just in time to do the task at hand. The quantity of knowledge has grown exponentially until no person can retain even a part of it. Instead, the world has built this repository of knowledge into cyberspace, accessible by those with skills at unveiling it when required.


The true valuable person is now no longer those that comply, but those that break down traditional barriers and access information with ease. Those able to access information required to meet the tasks at hand. Concepts traditionally considered sacred (e.g. like only governments issuing currency) are flipped on their heads (e.g. people started to trade in bitcoins, a cryptographic invisible electronic currency that has true value and is nationless).


I am sad to say that it is not only the Christian church that is failing our youth, it's the world's educational systems as well.
Our schools are outdated, and currently instead of facilitating this new mode of knowledge acquisition or teaching us how to do it more effectively, we continually hear silly comments like we need to keep technology out the classroom. Who does that serve? Who does it serve more? The outdated traditionalist, or the upcoming generation?


I suggest the outdated traditionalists are hampering the growth of the new generation by being unable to adapt fast enough to the changes the world is presenting. Those in charge need to step out the way and let the young determine their own future, or actively look to ways of collaborating with the youth to determine the future.


The better of these paths is collaboration between youth and their elders, not the direction of the youth by the elders.


The brightest youth should be identified and used to structure the future of learning so as to enable their peers and those coming immediately behind them to gain where they were impeded. If we do this, then the rate of educational growth may just manage to keep pace with the future demand. Anything less and the stress of the discord will cause national programs to fail. This path will require courage, but without it the future of our first world youth is at risk.


Of educations, Christian education is probably one of the worst impacted. Our youth are forced to face great improvements of science and technology but with the advice and oversight of outdated preachers and teachers. Preachers are poorly informed even about new biblical discoveries, never mind having very little ability to guide these bright young people in the worldly understanding of new scientific and engineered directions that need to be considered in relation to biblical texts.
Traditional Christian education as dealt out in the customary few minutes on a Sunday morning is probably the least effective. Here younger children are generally educated using the old techniques of flannel boards, story books and picture bibles. While none of these are wrong, they are not effective.


This same child will be using gaming machines, watching online video's and playing interactive games if they are progressive. The church is almost useless at providing this level of stimulation. The Christian fear of technology and science has moved it into the doldrums of education where the wind of change rarely reaches and those attending stagnate.


No wonder when they get to choose their direction and attendance, many Christian youth decline the advances of the church leaving their parents in the pews concerned and hurt.


·
Where are the Christian game makers?

·
What church groups are sponsoring online gaming with Christian principles and morals?

·
How many online video's and social interaction groups are promoted by the formal church? Why not?

·
Where is the free education for everyone provided by church organizations?

·
Why have we not taken up national educational objectives with Christian values and made it available to everyone in the world?


It's not that difficult to do. Take a little of that mission thrust and push it into the new world. Physical geography is not the only frontier, is it?


Then let's discuss biblical discussion mechanisms. How often do I see preachers totally inadequately trying to explain that Genesis 1 cannot be supported by science? Often! Yet there is the discourse that allows these discussions to be honest and free. Where are the people who understand the facts? The 40year olds and up in most churches don't! The major facts in these areas are younger than they are! If our bible is truth, it can deal with the changes being thrust upon it. We need to have true faith! Faith that God is in control and that we will be able to gain understanding of how these diverse areas relate to the powerful all-knowing and loving God.


Yet I want to posit it is not faith, but fear that motivates most discussions. Not truth, but rigid traditional thinking. Not investigation of the bible, science and debate, but rather a myopic re-iteration of past knowledge that is no longer current.


A real Christian does not fear honest discussion and wants to be open to truth in all its variations. How often do we find that understandings of yesteryear are wrong? Just look at our nativity scene. Today with modern understanding we know the wise men had travelled for a long time and Jesus was no longer a baby when they arrived. The star arrives two years later than the birth. Yet what do our nativity scenes depict? Even after pastors, ministers, bishops and priests come to know this fact they don't correct this. Why? Is not that which is not true … a lie? Our young people know this! They see our churches as propounding lies. When will our church respect this realization?


Why are church leaders so scared of upsetting the constituents that they no longer educate in truth, simply because it's uncomfortable? Where are our true leaders who stand up and tell the traditionalists to change when they are wrong? Today the politics and legal compliance is more important than the truth of the messages, isn't it?


Do we think our youth are stupid? They see this! They vote with their feet and leave when they get the chance. Not because Jesus is not God, and his message untrue. They leave simply because they cannot deal with the lack of respect for truth and the hypocrisy of the leaders.


Christian education is not education in the eyes of the youth. It is indoctrination and teaching half-truths. Let us also remember perception is reality in this case.
The challenge is this, what are we doing to change the perceptions?
Wed, February 17, 2016 | link
Monday, January 11, 2016
Our misguided church view
The Church has always been willing to swap off treasures in heaven for cash down.
Robert Green Ingersoll

Internet entwines our world in a labyrinth of information tentacles reaching into millions of homes and businesses. I am told that there are more scientists alive today than have ever lived in the past, that medical science is growing in depth, skill and diversity moment by moment.

We are developing new technology, skills and knowledge at speeds unlike any previous moment in any past decade. Physical excellence of our human body is resulting in more and more records of the past being broken (albeit some would argue due to illegal substance use). Yet despite all this, the Christian church in its mediocrity clings to past structures, past organization and past traditions with an almost blasphemous ignorance and intensity. Why?


The way we interpret our bible is almost pharisaical, and limits God's work, often extending to slaughtering God's truth in its extreme. Young Christians are not only disappointed in the lack of integrity that we as a Christian church reveal, but want to scream with frustration at the very way any attempt to try and move our lethargic and arthritic structures into the 21st century is resisted. These attempts are refuted on the most dubious of what is framed as "Christian" or "biblical" arguments.
To pre-empt the question: No! I am not speaking as a new ager, or one who does not hold dear to the doctrines of our early church, or one who does not respect the failures of the church during the 3rd to 12th centuries. I do respect the huge step forward of the reformation, and giants of the faith such as Luther, Calvin, and others. I do listen to Kay and John MacArthur, Chuck Swindoll, Joyce Meyer, and loved to hear Billy Graham preach, and also respect the work of Dr. Dobson.

Yes! I am a true follower of Jesus Christ with belief in all that the Nicene Creed requires. I like to believe that I work in the guidance of Holy Spirit and that I check my understanding against our bible. I consider the bible to be God's word revealed to us mortals. I use translations, not paraphrases, and I check the odd word against the Greek or Hebrew of the original language. Despite this, I have to say, I find our institutions old, crusty, unwilling to change, quick to find fault, bickering, and unsupportive of moving into new areas where we could actively engage while being virtually incompetent at building dialogue with millions of young people in the world, who are resistant to the church, but not yet to our Lord Jesus Christ.
What is holding us back?

With a short look around I think we can all agree that it's nothing new!

The traditions of the past, like ghosts, enthrall us with their past wonders which are seemingly of real value today. These on deeper investigation disappear into the mists of history. As Christians we have built such a mass of expertise and invested so much of ourselves historically into these edifices of past Christian strength, that we fail to see that these were in their days, the very opposite of the solid core institutional systems we consider them today. The reformation to those living in its birth pains was not mainstream, but a knife in the side of the traditional Christianity of the time. Traditions were torn apart as God's Spirit moved our world into a new era. The elders of those days shook their heads and considered how much better it was in the old days, those days when people respected the church. Does this sound familiar, or are we so uninformed that we are unaware of even these criticisms leveled at many progressive members of our own churches?


Is what I am saying sounding disrespectful? I hope not! It is not that I don't respect all the work we put in. It is that we are putting it into the wrong places! Often we are going against the very principles Jesus taught us to hold near and dear. I know this sounds heretical, but I hope, within the paragraphs and pages that follow, to ground this in common sense and pure facts.


To kick this off, let's start with a biblical text that probably motivates us more than any other to get out there and do something. Matthew 28:17 to 19

says "
Then Jesus came to them and said, "All authority in heaven and on earth has been given to me.

Therefore go and make disciples of all nations, baptizing them in

the name of the Father and of the Son and of the Holy Spirit,

and teaching them to obey everything I have commanded you. And surely I am with you always, to the very end of the age."
[1]
Sound familiar? I hope so, or perhaps you have the wrong blog. I want to emphasize two pieces of this text. The first is "go and make disciples", and the second is "teaching them to obey everything I have commanded you".


Let's get this into modern English. We haven't used the word "disciple" in everyday language for years, and that phrase should perhaps be translated into "mentor them".

To "mentor" (or in the disused term "disciple") another, you need to be trusted. This is key requirement! Those people out there who don't know Christ should consider us trustworthy. The must respect us! Do we think they do? Are we kidding ourselves?


What do the younger generation think of televangelists?
That's the church they see as representative of Christians because these young people certainly don't walk into our churches very easily.


They consider televangelists to be preying on the weak in society for monetary gain and self-indulgent reasons. While this is perhaps wrong, it is a prevalent perspective. If you need more information about these views a fine statistically correct resource is "unChristian: What a New Generation Really Thinks about Christianity... and Why It Matters" by Kinnaman. It is relatively up to date, i.e. 2007, and based on solid research not opinion. The horrific facts are obvious, the church is not relevant, and may become less so as time progresses!


Was Christ relevant? Is Christ relevant? I think so, and you must as well or you wouldn't be reading this discussion. If we do believe this, maybe we need to find a way to also become relevant and have the non-Christian people that are out there "doing" life trust us?


One problem is that we as a formal church just cannot see where to go to improve this, because many of us running the church are not in the new world! Have you noticed how the churches seem to be getting a 12 to 40 year old age group gap in their congregations? Not all churches, but if you look across the first world western countries, this would be the trend. This means that key decision makers in the church are generally 40 years or older. Sorry to be difficult folk, but in that age range you are not likely to be "current" regarding the new world. This new world is a world of podcast, iphone, texting, mp3s, new forms of music, messaging, VOIP phones, instantaneous gratification, and a whole lot of information overload (to mention just a few aspects).


Younger people want to get input on demand, and not have it delivered or pushed to them in pre-considered, pre-packaged formats a few times a week(unless they ask for it). They want to search, compare and determine for themselves what truth is available, not be told what it is. They want honesty, love and compassion, not judgment, rules and traditions. So what are we doing to mentor them, to build their trust, to lead the way for them, to teach them to obey Jesus? "Too little" is the answer I am sorry to say!




The question today is this...what are we going to do about this?




Mon, January 11, 2016 | link
Friday, January 8, 2016
Men or Wimps Ė Sacrifice or selfishness
Great achievement is usually born of great sacrifice, and is never the result of selfishness. ~ Napoleon Hill


Are men really the men they should be today?


Flocking to movie theatres throughout the world, we are eagerly watching the new STAR WARS movie.
We watch to live virtuously through Han Solo as this hero leads in a sacrificial manner that overcomes his greed until the battle is won.
Whether it is Star Wars, Rocky, Terminator or other movies,
the men are depicted as
taking on overwhelming odds with integrity and a raw will to succeed
while providing and insisting on a respect for truth and striving for a better world.
On the other hand...how often can we say that we felt joy and fulfilled when we have been watching men succeed at being greedy, stomping others down to get their way, and selfishly put themselves first in order to get everything they desire.
Can we say never…or almost never?
Why is this?
Is it perhaps that
we as men are wired to know our purpose is to serve with respect, honor, and integrity?


Is it true that throughout the world, the movies have upheld the American Marine Core as examples of true men?
I think they are held in this light (although there are many others that should have this same honor)
What is the Marine core motto?


"Semper Fidelis"
(
"Always Faithful")
which they share with England's Devonshire Regiment, the 11th Foot.
Is this a selfish motto?


No!
Here are some characteristics of true men;
·
True men are
not selfish but sacrificial
in what they do.
·
True men
put the health, safety and needs of their family over their own.

·
True men
look to serving
their family and their communities.
·
True men
serve a higher calling than their own lives
!
Why then is it then that today so many of our young people miss this fact?


Maybe men have adopted the woman's advice that they give to children who are going out to play.
"Have fun and keep safe."
This is not a man's motto!
We as men are NOT going out to play!


Have you heard young men say they have no purpose in life?
I hear it all the time!
Why do we lose purpose?


Perhaps we lose purpose simply because we are not looking to the core of human existence as men. Maybe we are putting our happiness and our desires (as an aside in the first world men think desires are needs) ahead of selfless sacrifice.
We as men find purpose in our sacrificial love of others, not in our selfish gratification of self.
Particular as Christian men this must be the case. We are not here on this earth for our own enjoyment, but to make a difference and build the future.
We say we look to Christ but do we really do it?
Are we willing to lead in a self-sacrificing manner until the battle is won?


God wants us to be the real Hans Solo's, the real Sylvester Stallone's, the real Arnold Schwarzenegger's of the world today. Not virtual images but real men! Not fighting dreamed up enemies, but fighting the hard cold reality of a sinful world. Not making no real difference, but making a significant difference in the lives of those around us.
We are not here to wimp out of life, but to stand firmly and using the inner power of Holy Spirit we are to be bastions of strength, sacrifice, integrity and honorable action.
After all, Jesus showed us how when he died without complaint on that death machine about 2000 years ago. He sacrificed ultimate power and control for service and humility for us. In so doing he did a typical movie ending manoeuver, winning everything out of an impossible situation.
The difference is that this was no movie. It was reality for our universe and world.
How about will follow his example and become faithful men in times of great selfishness?
Think about it!
Paul one of Jesus Followers did give us this advice…
Brothers and sisters, God has shown you his mercy. So I am asking you to offer up your bodies to him while you are still alive. Your bodies are a holy sacrifice that is pleasing to God. When you offer your bodies to God, you are worshiping him in the right way.

Don't live the way this world lives. Let your way of thinking be completely changed. Then you will be able to test what God wants for you. And you will agree that what he wants is right. His plan is good and pleasing and perfect.
God's grace has been given to me. So here is what I say to every one of you. Don't think of yourself more highly than you should. Be reasonable when you think about yourself. Keep in mind the faith God has given to each of you.
– Romans 12
Today as we work, let us know we work for a higher calling than ourselves, we do not work for a boss, or to gain wealth, but to serve God, our family, our community in a sacrificial manner.
May God give you the strength to be a hero.
"Semper Fidelis"
Fri, January 8, 2016 | link
Wednesday, January 6, 2016
Caretakers of Climate change
"Men argue. Nature acts." ~ Voltaire

Our stuffy arguments have not done much in recent years. Greed and pride combined with the need to maintain control of one's political position has inactivate true progress in taking care of our planet.
When God said;
"Let us make mankind in our image, in our likeness, so that they may rule over the fish in the sea and the birds in the sky, over the livestock and all the wild animals, and over all the creatures that move along the ground."


And then
"God created mankind in his own image,

in the image of God he created them;

male and female he created them."


He was expecting more from us as mankind. We were to look after the Earth.
What is evidence of our caretaking in the past few years?


·
Tornadoes in Madrid
·
Waterspouts coming ashore in Marseille, France
·
Floods along the French Riviera,
·
Floods in South Carolina (1000 year water mark overreached)
·
Landslides in Guatemala killing hundreds
·
Cyclones in Russia far East
·
Typhoons blasting through the Philippines into China
·
Indonesia wildfires pumping CO2 into the air
·
Volcanic eruptions in Mexico
·
Hailstorms with hail that destroyed cars in Mexico
·
Floods washing away land in Northern Turkey,
·
Exceptional tidal flooding in Miami
·
Permafrost in Russia melts releasing vast quantities of methane from marshes and seas into the air (methane is 3times worse than CO2 for global warming)
What is the prediction patterns?


·
Double the earthquakes experienced by humans by 2027
·
Heating decreasing crop yields perhaps by a third within the next two to three decades
·
As ice in Greenland melts, the loss of weight causes isostatic rebound which will generate Earthquakes in the sea with potential of devastating Tsunami's
·
El Nino is getting stronger (this year exceptionally hot weather patterns are and will be experienced)
·
CO2 is higher by over 100 ppm than it has been in the last 650 000 years.
·
Any temperature rise above 3 degrees C is expected to be devastating, we should not be going above 2 degrees, but the scientists say that is going to happen now.
·
There has been no slowdown in global warming since the 60's and it continues to increase.
·
As the oceans warm, they setup a cycle of heating, more ice melts, the sun is reflected less, water warms more, as the sun heats, permafrost disappears, methane and CO2 is released, the air and oceans heat more, more heat is captured into our atmosphere.
·
Bill Gates says by 2050 if we are not energy balanced, i.e. we use what we produce in a sustainable manner, then there is little hope for humanity. By 2030 he says we have to have no coal fired power stations left if we are to survive.
·
The artic cap melting raises sea levels by 16 to 20 feet
·
The Antarctic cap melting raises sea levels by 200ft.
·
Today there are cities that will likely be flooding soon as a result of the last 10 years of CO2 emissions. 400 in the USA are predicted to be impacted.
·
Venice and Netherlands and big parts of Europe will be impacted.
So how do we think it's going?


Do we care? It's interesting that at the Paris 2016 UN climate change conference two big resistors of change, China and USA changed and started to support the change effort.

Why?


According to some predictions 2015 is the last chance to change and make a difference that could save the humankind on this earth.
To put this into perspective, the CO2 impact takes 10 years to work itself out and have its full impact. When we consider that between 1750 (before industrialization) to 1880 the temperature raise was only 0.2 degrees C, that from 1880 to 2014 it was 1.17C and form 1880 to 2015 it is 1.26C, we see we have a runaway situation.
Most of us ignore this. Christians as much as any.
In revelations speaking about judgement the bible says;


"The nations were angry,

and your wrath has come.

The time has come for judging the dead,

and for rewarding your servants the prophets

and your people who revere your name,

both great and small—

and for destroying those who destroy the earth."


We have global warming, but our energy consumption is even more damning(I use the word deliberately). China, India, and Asia are emerging as significantly developing nations and will increase the energy needs exponentially. Every person born requires more energy yearly to develop. First world countries use more than developing countries. (five times more) As the years progress we are simply overreaching our earth's ability to sustain life effectively.
What does this mean?


It means we have to increase efficiencies, generating power, decrease our populations and reduce our standards of living.
These aspects will change our lives dramatically in the next ten years and definitely in the next twenty to thirty. We are on a path for human disaster greater than world wars if we do not.
What can we, as Christians, do?


Support change, simplify our living standards, support legislation changes that support environmental changes, stop criticising others are being negative and inaccurate in arguments that the environment is in trouble, plant tree, ride more fuel efficient cars, decease electricity consumption, look at alternative forms of energy (hydro, solar and wind).
Get informed!


It's the small things that make differences. Speak out, change lights to use led bulbs, try and access how to insulate your home so heating and cooling costs reduce.
Pray!
There is some good news for Christians. We know how the World ends….
The heavens will disappear with a roar; the elements will be destroyed by fire, and the earth and everything done in it will be laid bare.


The current scenarios don't predict any of this. Therefore it looks like we will win this fight and become good caretakers again for a while.
Let's remember the fight for our planet is still on. Yes it is spiritual but it is also very physical.
God came to earth to galvanize the human hands and souls to action. How active will you be?
Wed, January 6, 2016 | link
Tuesday, September 15, 2015
Morals and truth, there is a difference isnít there?
Morals and truth, there is a difference isn't there?


"Don't let your special character and values, the secret that you know and no one else does, the truth - don't let that get swallowed up by the great chewing complacency." ~ Aesop


The truth…


Values…


Mortality…


Big words by which much in life is driven.


In the NIV version of the Christian writings it uses the word "moral" once in original text translations and truth "137" times. I think this signifies something.


We all want to know what we consider to be true and then once we have decided upon it, we follow that "truth" as best we can
, often bending it to meet our own needs or what we would like to have as the perceived need of society.


It is significant to me that the downfall of the soviet environment started when their understanding of morality was corrupted.
In fact here is the truth from a moral man who says…


I think the greatest gift of the Soviet Union to modern civilization was the dethronement of the clergy and the refusal to let religion be taught in the public schools." ~ W.E.B. Du Bois.


What is more interesting is that the western world who for a while was protected against these false moralities is now propounding the very same things and falling into the exact same trap.


There is truth in the world, but not all of it can be created from a human mind.
To think so is obnoxiously arrogant. This universe had truth imbedded in it before the first human's toes touched the ground. Mathematics is inherent in the universe and irrefutably true, but was established without human intervention, merely being unveiled by human discovery.


If truth is absolute then those walking the path to self proposed moral values are potentially walking into dangerous quicksand or to paths leading off dangerous cliffs.

Is truth absolute?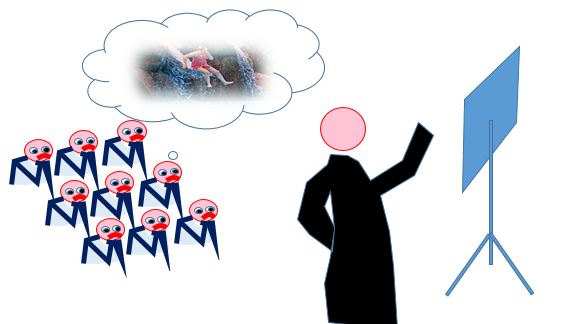 To say so today is to be mocked.


It seems we may be lost in our own self-opinionated smugness
.

Many years ago a simple man asked Jesus what the correct way was in life.


Jesus said, "I am the way and the truth and the life. No one comes to the Father except through me.

If you really know me, you will know my Father as well. From now on, you do know him and have seen him." (NIV)


No human who is merely interpreting the truths of the universe can really say they know truth,

only that we are searching for it and trying to identify it

.
It takes God who established the universe to know truth.


Jeremiah an ancient man in chapter 7 of his writings says;


Therefore say to them, 'This is the nation that has not obeyed the Lord its God or responded to correction. Truth has perished; it has vanished from their lips.


I believe that needs to be said too much of the western world today. Thinking our moral values espouse truth is not adequate to save our civilizations.


Truth comes from the revelation by God. Therefore the Godly followers know truth with greater clarity than most, (that is when they are being honest, because they also fail and are misled by evil at times). Finding truth and backing it up with creative evidence assists. Turning truth to human purpose is valuable if it is not distorted.


Today as we walk and talk, let's ask ourselves how much we check the truths we hear against God's wisdom and words as found in His writings in the bible. God knows absolute truth.

If we don't check truths are absolute or if we distort them, then we are sliding down a slope to unknown destinations.


Today I intend to try and keep my feet firmly planted.


What about you?
Tue, September 15, 2015 | link
Tuesday, September 8, 2015
Ever felt lost and drowning in darkness
Ever felt lost and drowning in darkness


"The road that is built in hope is more pleasant to the traveler than the road built in despair, even though they both lead to the same destination." ― Marion Zimmer Bradley


There are those times in life when we feel like life is totally against us.
Work erupts into a nightmare of problems and dismays, most of which come our way, home life has illnesses, angers, annoyances, schedule incompatibilities, the landlord threatens to throw us out and then to crown it all we find our appliances are giving out, failing and life is just full of turmoil and trouble.


This can drag our self-worth down and threaten our very existence
. "What am I worth? I would be better off dead, at least then I would be away from this pain!" some might even say.


The truth is there is a strong thread of hope
. God understands how the evil of life can take us down. Sometimes it is due to us letting it in, other times it can be just to enable us to grow into new directions of life by facing and conquering the evil with God's Holy Spirit inside us.


That hope is there because no matter how bad and dark it gets,

God is always waiting to hear from us.

He is always with us, even when we don't think he is or don't experience his presence.


The bible describes the path we sometimes walk in Psalm 107


"Some wandered in desert wastelands,

finding no way to a city where they could settle.

They were hungry and thirsty,

and their lives ebbed away."


We can feel as if we are alone in the great expanse of despair
, trudging through life, alone, desperately hungry and thirsty for divine intervention and as if our very lives are about to fade out.


God understands! He is ready to hear us.
It say is psalm 107;


"Then they cried out to the Lord in their trouble,

and he delivered them from their distress.

He led them by a straight way

to a city where they could settle."

He is waiting for us to turn to him.
Not turn in anger, or annoyance at what is happening, not shrieking out curses and profanity, and not turning to him out of guilt.


Rather God wants us turning to Him because of who He is,
the ultimate truth, sustainer and creator of all.


Life was not meant to be easy and Jesus never promised it would be
.


Rather Jesus said in Luke 9;


"Whoever wants to be my disciple must deny themselves and take up their cross daily and follow me."


We are under a load of life, the way is hard, even uphill at times,
and it can seem as if there is no truth in sight even that we are walking to our deaths. Yet,

through all of this Holy Spirit is within us sustaining us towards our life's great goals

.


Knowing this as a fact is a great help, knowing God is listening is a thread to which we can cling.


Psalm 143 says


"Lord, hear my prayer,

listen to my cry for mercy;

in your faithfulness and righteousness

come to my relief.

Do not bring your servant into judgment,

for no one living is righteous before you."


God is there listening to this prayer.
Written by ancient men, it rings true in the pain of today. We are no more righteous than any of those men.


Everyone fails God.
Failing is not unique to ourselves, it is a human attribute. It's not God that is causing our pain, but rather that the absence of God's truth and His way in the lives around us that generates the pain and despair.


We are to hold to the thread and pray to the sustainer of this universe
who is the only one who knows it all.


We may feel as if;


"The enemy pursues me,

he crushes me to the ground;

he makes me dwell in the darkness

like those long dead.

So my spirit grows faint within me;

my heart within me is dismayed."


We need to remember the days of long ago.
We must meditate on all the works God has done and is doing and consider what His hands have done.


Then we reach out to God;


"I spread out my hands to you;

I thirst for you like a parched land."


We need to enfold ourselves into his grace and protection.
We cannot fight to save ourselves, He is our only true choice.


In the wise words of the psalmist we say


"Answer me quickly, Lord;

my spirit fails.

Do not hide your face from me

or I will be like those who go down to the pit.

Let the morning bring me word of your unfailing love,

for I have put my trust in you.

Show me the way I should go,

for to you I entrust my life.

Rescue me from my enemies, Lord,

for I hide myself in you.

Teach me to do your will,

for you are my God;

may your good Spirit

lead me on level ground
"


The uphill strain will finally fade and God will be with us plain and simply.


We need to remember those words to God's people as they faced giants and entered a land which was aggressively against them;


"Be strong and courageous. Do not be afraid or terrified because of them, for the Lord your God goes with you; he will never leave you nor forsake you." Deuteronomy 31.


The victory needs to be God's. When we cannot see a way out, we must understand that God does and can make the way out for us. It takes faith and trust to follow a way that is a difficult uphill path. Let's never lose our integrity and strive to gain ground, not for ourselves, but because we are led by God through hellish places with Him in our lives, and then into his rest. It can take time, but fortunately as humans that is limited and with God it takes far less time than without him.


I pray my friend that you understand the joy of Jesus and even if you don't feel it this second, it resides in your heart and gives you strength to go on into the day and days ahead. God is good, it takes courage to see that!


Be blessed!
Tue, September 8, 2015 | link
Friday, May 29, 2015
Never on a Sunday!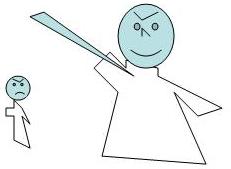 Never on a Sunday!

A Sunday school is a prison in which children do penance for the evil conscience of their parents.~H. L. Mencken

The quote has a ring of truth in it doesn't it?
How many kids think that way?



I know when I was a kid I thought that way!
My Mom and Dad would sleep in, or sit at home in the sunshine, while I got put into my Sunday clothes and sent off to the local church.


It kind of felt as if my parents were getting my sister and I out of their lives for a while so that they could enjoy life while we had to listen to some relatively boring person rehashing stories from the past. Stories that had little to no interest to me. I would rather have been reading my Superman comics or playing in the mud down at the river.


It was only years later when I had my own kids I realized they were trying to help us get good "moral" values in life, and perhaps felt inadequate at the job themselves and so were trying to get the "professionals" to help.


Not that it did anything like that! I never understood Jesus or religion from church. It was a total waste of time!


With me, I had to get into real trouble and have Jesus give me the option of switching the life I had with the one he was offering in order to find out who Jesus really was and that he really cared.


I also found out that morals didn't count for much. It's living a life of love for Jesus that counts, and doing things the way he shows me I must do them.


In my mind Sunday school should be a different experience.


It should be Christian parents frolicking in the sun, sand and water with their kids and taking the moments to ask their sons and daughter who they think made it all, why it was made and what part do they think they are going to play in the world. It should be in picking a bible story after they have been greedy that shows greed will cause problems, or when they are scared that shows courage in truth saved lives, or when they don't know what to do that shows God makes amazing ways out of impossible situations.


That's Sunday school!


Dusty dim lit church rooms and projected illustrations only go so far, fun with friends go only so far.


The true Sunday school is learned in the halls of life.


Proverbs 22:6 (NKJV)

Train up a child in the way he should go,

And when he is old he will not depart from it.
Fri, May 29, 2015 | link
Friday, May 22, 2015
What is heaven?
On earth there is no heaven, but there are pieces of it. ~ Jules Renard


Jules lived in France in the countryside of the Nièvre region and so his perception of the glimpses of heaven were probably taken from his beloved countryside.


Living as I do, in the beautiful near North of Canada, among the birds, wolves, bears, maples, birches and pines trees, I feel as he did, that we see glimpses of heaven in our world around us.


However, we are really seeing glimpses of the glory of creation, and so we attribute the qualities of God in creation into that place that we will one day pass into after death (if that same God would perhaps shine his favour on us).


That is part of what we as Christians hope for, and live towards.

Yet, what does the bible actually say about heaven?
Have we got it wrong? Let us investigate a little. Just a little more discussion before we do.


To a baby, heaven is in the shape of mother's breast, nipples and that warm sweet milk that they provide. A newborn with it's murky nearsighted vision of the world is fully sated by getting access to the vision, taste and smell of it's mother. This context will fill it's tummy with food while holding and comforting it.


Pure joy!


Time progresses and we grow older. Then it seems to take more to satisfy us as our complexity increases.


Yet I think we can all understand that child's delight and happiness, despite the fact it's horizon of understanding blurs at a very short distance and it has little knowledge of the extensiveness of life around it.


Am I right?


Now for the surprise!


We in our complexity are proven to be no better.


Our best brains to date have determined that everything you and I experience is only about 5% of the known materiality of universe. That everything includes everything on earth, in our solar system, every known star and galaxy in this universe.


95% of our understanding is missing
and is grouped into two areas called "dark matter" and "dark energy" by our brains of today. They could just as easy be called "Jack" and "Jane", or "blur" and "blah", for what we really know about it.


Despite our deep study, we therefore know almost nothing of our universe. Then we need to acknowledge that our universe is not God's full domain. God's domain extends to heaven and perhaps beyond that to areas beyond our conception.


Yet, like that baby, there are small pieces of our understanding that can be used to grasp some simple salient facts, and this is what Jesus, the apostles, prophets and writers of the bible try to give us as information regarding heaven.


Let's consider some of this.


First of all heaven is where God is present…


1 John 3:2 (NIV)

2
Dear friends, now we are children of God, and what we will be has not yet been made known. But we know that when Christ appears, we shall be like him, for we shall see him as he is.


or


1 Corinthians 13:12 (NIV)

12
For now we see only a reflection as in a mirror; then we shall see face to face. Now I know in part; then I shall know fully, even as I am fully known.


Or


John 17:24 (NIV)

24
"Father, I want those you have given me to be with me where I am, and to see my glory, the glory you have given me because you loved me before the creation of the world.
(said by Jesus)


From these verses I think you can agree that we will see Jesus in heaven, and also that we cannot understand heaven fully now in our current living state.


It is interesting that when we search the bible the Father's face is not seen at any time and 1 Timothy 6 says of God


God, the blessed and only Ruler, the King of kings and Lord of lords, who alone is immortal and who lives in unapproachable light, whom no one has seen or can see. To him be honor and might forever.


Jesus is our only way to understanding God the Father and knowing him. It may be we will never be permitted to see the Fathers face…eternity will tell!


Hebrews 9:27-28 (NIV)

27
Just as people are destined to die once, and after that to face judgment, 28 so Christ was sacrificed once to take away the sins of many; and he will appear a second time, not to bear sin, but to bring salvation to those who are waiting for him


Jesus is the key, and will be coming again. We however die and then face a judgement. That judgment has a directing force in it, and we are selected into either those destined for heaven, or those destined for hell.


Yet, we can determine where we are to go!
But more about that later. Right now we are looking into aspects of our fuzzy knowledge of heaven.


What happens to the current earth?


The bible explains as follows in Revelations 21;


Then I saw "a new heaven and a new earth," for the first heaven and the first earth had passed away, and there was no longer any sea.


The current earth is gone and so has all moisture. I think that's way of saying all life as we know it is eradicated and it's a hot water evaporating or transforming water evaporating or transforming process that does it.


Then it explains the new environment as follows;


2
I saw the Holy City, the new Jerusalem, coming down out of heaven from God, prepared as a bride beautifully dressed for her husband. 3 And I heard a loud voice from the throne saying, "Look! God's dwelling place is now among the people, and he will dwell with them. They will be his people, and God himself will be with them and be their God. 4 'He will wipe every tear from their eyes. There will be no more death' or mourning or crying or pain, for the old order of things has passed away."


5
He who was seated on the throne said, "I am making everything new!" Then he said, "Write this down, for these words are trustworthy and true."


6
He said to me: "It is done. I am the Alpha and the Omega, the Beginning and the End. To the thirsty I will give water without cost from the spring of the water of life. 7 Those who are victorious will inherit all this, and I will be their God and they will be my children. 8 But the cowardly, the unbelieving, the vile, the murderers, the sexually immoral, those who practice magic arts, the idolaters and all liars—they will be consigned to the fiery lake of burning sulfur. This is the second death."

Selfishly (I think that is a human failing) I focus on


He will wipe every tear from their eyes. There will be no more death' or mourning or crying or pain, for the old order of things has passed away."


since these are things I yearn for. No more death. No more mourning for people and things and times and seasons. No crying. No Pain!


This defines heaven more than many other things for me. The unpleasant strains of life are removed.


Heaven!


In case we don't quite get it, we find this is explained by Isaiah who lived somewhere around 800 to 740 years B.C.


Isaiah 56 says


New Heavens and a New Earth

17
"See, I will create
new heavens and a new earth.
The former things will not be remembered,
nor will they come to mind.
18 But be glad and rejoice forever
in what I will create,
for I will create Jerusalem to be a delight
and its people a joy.
19 I will rejoice over Jerusalem
and take delight in my people;
the sound of weeping and of crying
will be heard in it no more.
20
"Never again will there be in it
an infant who lives but a few days,
or an old man who does not live out his years;
the one who dies at a hundred
will be thought a mere child;
the one who fails to reach[
a
]
a hundred
will be considered accursed.
21 They will build houses and dwell in them;
they will plant vineyards and eat their fruit.
22 No longer will they build houses and others live in them,
or plant and others eat.
For as the days of a tree,
so will be the days of my people;
my chosen ones will long enjoy
the work of their hands.
23 They will not labor in vain,
nor will they bear children doomed to misfortune;
for they will be a people blessed by the Lord,
they and their descendants with them.
24 Before they call I will answer;
while they are still speaking I will hear.
25 The wolf and the lamb will feed together,
and the lion will eat straw like the ox,
and dust will be the serpent's food.
They will neither harm nor destroy
on all my holy mountain,"
says the Lord.


Now this has another aspect. Note that the former things will not be remembered or come to mind. Folk, let's realize what we have here is so insignificant that we will not waste a second of eternities time even trying to remember it.


I think that speaks to the wonder of where we will be doesn't it?


This Jerusalem is designed to be a delight and its people a joy!


We will be there as joy! Yes us as joy!


Yet there is also a reward form the past. It also says


Matthew 16:27 (NIV)

27
For the Son of Man is going to come in his Father's glory with his angels, and then he will reward each person according to what they have done


Our new situation does depend on what we have done here and now. Our life has purpose. Eternal purpose!

What are we doing today towards that purpose?


There is an apparent ambiguity in the Isaiah text compare to the revelation text isn't there.


Did you notice, there was a mention of death in this new place by Isaiah. How can this be?


Straining my brain I remembered this text from 1 Thessalonians 4.


Believers Who Have Died

13
Brothers and sisters, we do not want you to be uninformed about those who sleep in death, so that you do not grieve like the rest of mankind, who have no hope. 14 For we believe that Jesus died and rose again, and so we believe that God will bring with Jesus those who have fallen asleep in him. 15 According to the Lord's word, we tell you that we who are still alive, who are left until the coming of the Lord, will certainly not precede those who have fallen asleep. 16 For the Lord himself will come down from heaven, with a loud command, with the voice of the archangel and with the trumpet call of God, and the dead in Christ will rise first. 17 After that, we who are still alive and are left will be caught up together with them in the clouds to meet the Lord in the air. And so we will be with the Lord forever. 18 Therefore encourage one another with these words
.


Some people will end up at the judgement without having died
.


Maybe what Isaiah is referring to are those remnants who still have to pass through the veil of death.


Maybe they get to do it in the New Jerusalem. Perhaps it is for them the words are written…


20
"Never again will there be in it
an infant who lives but a few days,
or an old man who does not live out his years;
the one who dies at a hundred
will be thought a mere child;
the one who fails to reach[
a
]
a hundred
will be considered accursed.




Perhaps the death of those raptured will simply be a transformation from a millisecond of dying to being alive again with the new body. So fast a change that there is no time for mourning or pain.


I wonder about that sometimes, do you?


Eternity! That's a long time for small evils to become unbearable. Is that perhaps why all evil has to be eradicated?


I wonder about that as well.


Now in the eternity state we are under the direction and loving control of God the Father, living with Jesus among us.


Zechariah 2:10-11 (NIV)

10
"Shout and be glad, Daughter Zion. For I am coming, and I will live among you," declares the Lord. 11 "Many nations will be joined with the Lord in that day and will become my people. I will live among you and you will know that the Lord Almighty has sent me to you.


Jesus will be among us! Wow! We will be able to chat to Jesus!


Ever had a question you would really like to ask Him? We will do just that. Wow!


Joy will be our signature in eternity.


Jeremiah 31:12-13 (NIV)

12
They will come and shout for joy on the heights of Zion;
they will rejoice in the bounty of the Lord—
the grain, the new wine and the olive oil,
the young of the flocks and herds.
They will be like a well-watered garden,
and they will sorrow no more.
13 Then young women will dance and be glad,
young men and old as well.

I will turn their mourning into gladness;
I will give them comfort and joy instead of sorrow.


We will be amazing and amazed.


Matthew 13:43(NIV)

43
Then the righteous will shine like the sun in the kingdom of their Father. Whoever has ears, let them hear.


Returning to how we get to heaven.


There is one major requirement and one lesser.

The first is that we need to understand and be willing to acknowledge the following;


We believe in one God
, the Father, the Almighty, maker of heaven and earth, of all that is, seen and unseen.

We believe in one leader with authority, Jesus Christ
, the only Son of God, eternally established by the Father, God from God, Light from Light, true God from true God, established, not made, of one Being with the Father; through him all things were made. For us and to save us, he came down from heaven, was embodied by the Holy Spirit and the virgin Mary becoming truly human. For our sake he was crucified under Pontius Pilate; he suffered death and was buried. On the third day he rose again in accordance with the Scriptures; he went up into heaven and sits at the right hand of God the Father. He will come again in glory to judge the living and the dead, and his kingdom will have no end.


We believe in the Holy Spirit
, the giver of life, who proceeds from the Father and the Son, who with the Father and the Son is worshiped and glorified, who has spoken through the prophets. We believe in one holy universal body of Christian believers acknowledging the leading of the apostles of Jesus. We acknowledge one baptism for the forgiveness of sins. We look for the resurrection of the dead, and the life of the world to come. On this we agree!


And then while not a pre-requisite, it is the norm that we also need to die.


The mystery of life is that true joy comes not in life, but following after it has ceased.
May you chose the joy of eternity, the peace of God and love Jesus with your whole heart mind and soul.


If you do we can chat further in heaven.
Fri, May 22, 2015 | link